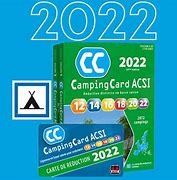 We would like to inform you that the Federation has reached an agreement with A.C.S.I Camping Card for the distribution of the Cards that allow staying at very low prices in more than 3,000 campsites in the off-season. Along with the Cards come the guides (two parts) of ALL EUROPE, that is, 21 nations.
Given the interest we have seen from many members, you may propose the purchase of the guides to your members for 2022. The cost of the ACSI Camping Card is €. 16.32 and includes: Camping Card ACSI-guide 2022 (two parts), Camping Card ACSI 2022 Discount Card, a mini-atlas showing all participating campsites. You can save up to 60% per night, and you will be able to earn back your purchase in just four nights!
We have decided to offer it to our Clubs at 14.50 euros by charging the difference to the Federation in recognition of your loyalty.
The offer will be available from the end of January and we will be able to deliver it to clubs (with shipping costs to you) in the first half of February. The delivery date is a generalized problem in all countries because, as ACSI officials explained to us, these times are due to the printing of the guides beginning in early January.
The ACSI 2022 Camping Card guides will have the description of the campsites in ENGLISH while the legend of all services in the facility will, of course, be with the international character symbologies.
Camping Card ACSI works very simply: All you have to do is remove the discount card from the guide and show it at the reception desk. The camp then charges a low, special rate calculated on two people.
All campsites participating in the circuit are listed both in the guidebook and in the handy CampingCard ACSI app for smartphones or tablets. In our proposal this is not included but you can then purchase it for €. 3,59.
The App offers a comprehensive list of ACSI Camping Card campsites displayed clearly by individual country. You can easily find what you want and know about each campground: location, services available, overnight rate, and discount card acceptance period. Includes GPS coordinates for perfect navigation. Updates are free, including changes and new campground reviews. You can also use the application information while you are offline. Ideal for commuting!
At more than 3,000 campsites in Europe your stay will cost only the fixed and affordable rate of 12, 14, 16, 18, 20 or 22 euros per night. Your children or grandchildren can also join you for free at nearly 450 campsites (maximum 3 children up to 5 years old).
This proposal is in addition to the benefits (discounts on taking out insurance policies, booking shipping companies, advantages on services, facilities on campsites and rest areas, presence of third-party liability insurance) that our ACTItalia card, including Camping Card International, offers, allocating additional opportunities, in addition to those already present. At campsites that join both circuits the most convenient solution will evidently be chosen.
CHAIR: Guido Chiari Via IV Agosto 23 50018 Scandicci (FI)
Registered office: c/o Mo.V.I. Lazio Via del Casaletto, 400 ROMA
Cell. 3397697270 e-mail: info@actitalia.it
C.F. and P.I. 08470670012 – Web site: http://www.actitalia.it
So we want to know whether there is interest from you and your associates in this initiative and, if so, what copies you plan to order. Please know that the reservations you transmit to us must be fully captured We cannot afford to have copies in stock for orders that have not been fulfilled. We are unable to bear the cost of the uncollected guides since, among other things, we will bear the small difference in the purchase price.
Let us know by December 4 if you like the proposal and how many copies to reserve for members. Within the next 10 to 15 days we will inform you about the general interest in the initiative and whether and how we will proceed with the purchase.
Hoping to optimize and increase the peculiarities of the services presented so far, to which more will soon be added, we send you cordial greetings.
The C.D.